Lemieux Highlights Strong Renewal of Kentucky Winter Mixed
Tuesday, February 7, 2023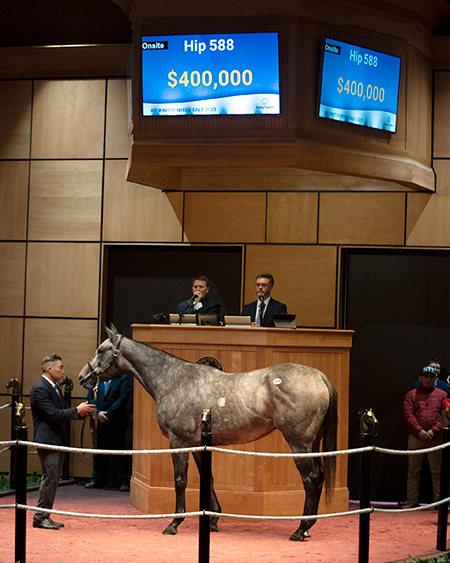 The Kentucky Winter Mixed sale concluded with a strong session Tuesday, topped by stakes winning broodmare prospect Lemieux. The auction, which began Monday, yielded solid results across the board, posting the second highest gross and third highest average and median (tie) in the sale's history. The RNA rate was second lowest in 10 years, behind only last year's all-time record low. Conducted at the Newtown Paddocks in Lexington, Kentucky, offerings included racing/broodmare prospects, broodmares, and short yearlings.
Stakes winner Lemieux (Hip 588) topped the session and the sale when sold for $400,000 to Nice Guys Stables from the consignment of Taylor Made Sales Agency, agent (video). Offered as a broodmare prospect, the four-year-old daughter of Nyquist was 6 1/2 lengths the best in the Brethren Juvenile Fillies S. going a mile at Gulfstream Park at 2. Lemieux is a half-sister to Grade 1 placed Brilliant Cut (Speightstown), who topped this sale in 2022, from the immediate family of multiple Grade 1 winners Diamondrella (GB) and Life Is Good.
"It was another solid day," said Fasig-Tipton President Boyd Browning. "I think that if you are trying to buy horses, you can buy the horses you want to buy, but you might have to pay a little more than you wanted to. If you're selling horses, if you've got quality, you're probably getting what you thought, maybe a little more. But there's no euphoria. I think it's a fair marketplace."
Rounding out the top five prices of the session were:
"The nature of our industry is pretty amazing," added Browning. "Generally, the attitude of most participants in the thoroughbred industry today, whether at the sales or at the racetrack, is overall positive. There's a sense of confidence. I think that the participants in our business are eternal optimists. Whether you're looking to buy one that wins Grade 1's or breed one that wins Grade 1's, we're all trying to create the magic."
Over the course of the two-day sale, 402 horses sold for $14,105,200, the second highest gross in sale history, behind only last year's record-shattering gross. The average was $35,088, third best in sale history. The median was $15,000, tied for third best historically to the $16,000 record for median set in 2014 and equaled last year. The RNA rate was just 13.9%, the second lowest in the past 10 years.
Full results are available online.
Upcoming Sales
The next sale is the March Digital Sale, to be held on Fasig-Tipton Digital from Thursday, March 2, through Tuesday, March 7. The deadline to enter the March Digital Sale is Wednesday, February 22. Go to digital.fasigtipton.com for additional details.