Flightline is 'World's Best Racehorse'
Tuesday, January 17, 2023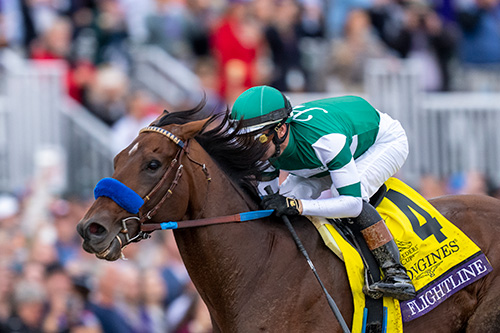 Courtesy of Thoroughbred Daily News
Flightline (The Saratoga Sale Grad 2019) was named the World's Best Racehorse in London Tuesday in a ceremony held by Longines and the International Federation of Horseracing Authorities at Banqueting House, one of the historic royal palaces.
In 2022, Flightline was rated at 140, tying Frankel's historic benchmark set in 2012.
Flightline earned his 140 in the GI TVG Pacific Classic S., which he won by 19 1/4 lengths. In 2022, he also won the GI Hill 'n' Dale Metropolitan H. and the GI Longines Breeders' Cup Classic, which was honored at the ceremony as the best race of the year. He retired undefeated at the end of the year, and stands at Lane's End Farm in Versailles, Ky.